Portland Zombie Walk
Dozens of US cities have a Zombie Walk each October and Portland, OR is among them.  A horde of the undead shuffle through town, grubling and moaning in search of tasty human brains and flesh, upon which they feed.  Portland's first Zombie Walk happened in 2005 and each year since a crowd of the grizzly, slovenly living dead have returned from hiding to the streets of the city.  Surrounding communities have had similar terrors visited on them as well, including the first Gresham Zombie Walk in 2015 and a Zombie invasion at a Hillsboro Hops baseball game in the same year.
PortlandZombies.com features photos and news about the Zombie Walk organized by volunteers in PDX every year around Halloween.  This site is not an official event website.  It's merely the work of a local web design and hosting company that delivers pictures and articles about Zombies in Portland for amusement and entertainment.
The Zombie Walk is essentially a performance art event, so those who participate are encouraged to please stay in character.  Please don't text or carry on conversations; just shuffle along and look frightening.
Contributions of photos and news from the zommunity are welcome.  Please share with us your zombie pictures, event news, and announcements.  To reach us or submit photos, use our Contact Form or send us an email.
PortlandZombies.com features photos from past Zombie Walks and news of upcoming Zombie happenings.  Using the Portland Zombie Walk menu above, you'll find pictures of past Portland Zombie Walks.  We'd love to post your pictures for all to enjoy.  Photos from the 2011 and 2012 Portland Zombie Walks would be especially appreciated!  We're happy to give you credit for your pictures and will link to your website or social media page on request.
2016 Zombie Walks
The 2016 Portland Zombie Walk was on Halloween day, Monday, October 31st.  See the 2016 Zombie Walk page for photos.
The Gresham Zombie Walk is was Saturday, October 22, 2016.   See pictures of the 2016 Gresham Zombie Walk.
 Get Zombie News alerts…sign up for our email list!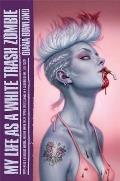 Zombie Walk Pictures